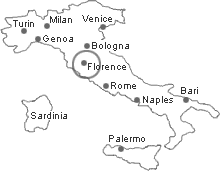 COUNTRY APARTMENTS IN THIS FINE CLASSICAL ITALIAN VILLA, TUSCANY
This villa was at one time the country residence of the prime minister of Leopoldo Grand-Duke of Tuscany, and is a Renaissance villa dating to the 16th century. It is situated on the edge of San Pancrazio, a charming Chianti village that is within walking distance and ideally placed for exploring the best of Tuscany.
The villa is surrounded by a beautiful Italian garden which was designed by the famous architect Poggi, who also designed the Cascine Park in Florence. Access to the apartments is via 200 metres of private road, at the end of which is a private parking area for guest staying at the apartments. Guests have use of the 7 by 14 metre swimming pool which is located roughly 60 metres from the villa and accessed via a private gate.
The villa opens directly onto the extensive formal gardens, which are in bloom practically all year round; the impressive rooms of the villa are dotted with historically significant antiques, and there are fine views of the splendid gardens and the hills of Chianti and Tuscany beyond.
Renting in Italy have selected two apartments in the villa - apartment Il Giardino (sleeps 7) and La Trave (sleeps 4).
Check

availability for Il Giardino
(red=booked, orange=optioned).
Check

availability for La Trave
(red=booked, orange=optioned).
Il Giardino Apartment
(7 people, approx. 250 m² / 2,500 square feet)
A good-sized apartment, occupying the ground floor of the villa, Il Giardino features large formal rooms filled with antiques. There is a very formal - yet comfortable - living room and dining room, a large country kitchen with stone sink and fireplace, and a cosy library with many English selections.
There are1 king-bedded room with en-suite bathroom, 2 twin-bedded rooms, each with en-suite baths (with shower), and one single bedroom.
La Trave apartment
(4 people, approx. 150 m² / 1,500 square feet)
This apartment occupies the first floor of the villa, and has a particularly comfortable and big living – dining room with kitchen area and fireplace, from where one can enjoy picture book views from the windows to the beautiful Italian garden and the surrounding hills. From the living – dining room there is the access to the long corridor from where you reach the bedrooms and bathrooms, to whit: 1 bathroom with bathtub and shower, 1 double bedroom, 2 bedrooms with french beds. Off the kitchen there is 1 bathroom with shower cubicle.