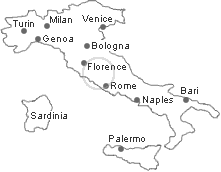 VILLA PERUGINO - HOLIDAY RENTAL APARTMENTS, PERUGIA, UMBRIA, ITALY
Treat yourselves to a holiday immersed in relaxation, tradition, art, culture and style! At Villa Perugino all these elements and the elegant apartments are blended in a beautiful, green and ancient setting - Umbria, the oft-called 'green heart of Italy'.
The property sites on a hill - Colle Giorgio - in open countryside just outside the city of Perugia. It dates back to the 1400's, and was converted into a family villa in the 1970's. The property was further refurbished in 2001-2. There are three high quality apartments available for rent at Villa Perugino, sleeping 2+1, 4+2 and 4+2 respectively, and a swimming pool.
All apartments have a strongbox with a personal code, bathroom with whirlpool bath, satellite television, hairdryer, washing machine, dish washer, living room with fireplace, and library. The apartments are furnished with antiques and decorated with frescoes depicting the paintings of some of the most celebrated Umbrian painters of all time (hence the apartment names). The owners live in an adjacent wing of the villa, a guarantee of a warm, friendly Italian welcome. Their hospitality will ensure that you are able to receive help with all your needs, plus suggestions for sight-seeing and cultural tours of the most interesting Umbrian towns.
(
Comments from previous guests
)
Visit Assisi, famed for its spirituality and its art, the cathedrals of St. Francis and St. Clare, frescoes by Giotto; Gubbio, the quintessential Italian mediaeval town; Spoleto, well known for its
Festival Of The Two Worlds
; Spello, noted for its works of art and its Etruscan and Roman remains; Lake Trasimeno, the third largest lake in Italy; Todi, an artistic town with magnificent views of the surrounding hills; Orvieto, with its celebrated cathedral; Deruta, famous for its hand made
Majolica
pottery; and many other villages and towns, all vital and interesting for their culture, art, and craft traditions (as well as Rome and Florence, both an hour and a half drive from Perugia).
Not to forget, of course, Perugia, an Etruscan and Mediaeval city of art, culture and nature, home to important events such as the Umbria Jazz Festival and the Eurochocolate event.
APARTMENT PERUGINO - 80 M², SLEEPS 4+2
Living room with fire place and a double sofa bed, kitchen, one bedroom with twin beds (flexible) and another bedroom with a French bed, bathroom with Jacuzzi.
APARTMENT PINTURICCHIO - 80 M², SLEEPS 4+2
Living room with fire place and a double sofa bed, kitchen, one bedroom with twin beds (flexible), one double bedroom, bathroom with Jacuzzi.
APARTMENT BONFIGLI - 50 M², SLEEPS 2+1
Living room with kitchenette, fire place and a double sofa bed, one master bedroom (flexible) and bathroom with Jacuzzi.
Outside there is private parking, barbecue, a covered and protected kennel space, and a communal ping pong table.