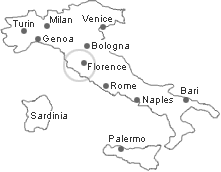 On a sea of hills rolling to the horizon, covered by lovingly kept vineyards and olive groves, there is a "nest" (nido) amid ancient cypresses, a little haven of quiet and beauty in the gentle Tuscan light.
Villa il Nido, part of an 18th century noble mansion in the Chianti area, offers you a panoramic living-room (with an old brick fireplace) with a double sofà-bed, a delightful kitchen leading out to the garden and barbecue, and a bathroom with shower, all on the ground floor. On the first floor, two beautiful double bedrooms with private bathrooms (both with shower) and fireplaces, furnished in the traditional Tuscan style.
From the windows you can enjoy the view of the private park ( 8000 square metres), with its one hundred olive trees, the crown of ancient cypressess, and the wonderful swimming pool (5*11 metres), paved in roman travertino stone.
The entire park is fenced and closed by an electrified automatic gate, and is lit along the private road and the terraced garden, ideal for parties and intimate weddings. "Il Nido" is waiting for you: come in any month of the year and you'll rediscover a new life in the enchanted places of Tuscany.
Private parking is available 10 metres from the house. There is a food shop 1 km from the property (closed on Wednesdays). A bank, drug store, supermarket and post office are all to be found at 3.5 km from the property, and Villa il Nido is only 30 km from the centre of Florence. Please note that you need a car to stay at the villa. Villa il Nido is only 30 km from the centre of Florence, 55 km from Siena, 35 km from San Gimignano, and 60 km from Pisa.
Included in the price: all taxes, services, one set of linen, gas, electricity and water, final cleaning, and heating. Not included: telephone (on request). Villa Il Nido has no land-line telephone, but the owner is happy to provide you with a cellphone free of charge, except of course for calling charges.