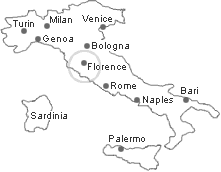 Country Hotel Il Borgo, apartments, Florence, Tuscany
Surrounded by the Tuscan countryside, and just a stone's throw from Florence, Empoli and Prato, Country Hotel Il Borgo is the ideal setting for relaxing working holidays, or for a family break.
The property/estate has been active for many years in the sphere of congresses, conventions, special events and receptions; it is now expanding into new areas with Country Hotel Il Borgo, offering apartments for both short and long stays. Made up of a series of farmhouses, the Borgo was built in the seventeenth century; the original style of an old Tuscan country house has been preserved intact, capturing the fascinating atmosphere of ancient walls within which past generations lived in close contact with the land.
The renovation of Il Borgo has produced 22 highly attractive mini-apartments, fully equipped with all modern conveniences, as well as with a sophisticated electronic 'Hotel Supervisor' system which controls the functioning and safety of all the systems to guarantee guests a comfortable and secure stay.
Set within an ancient park in the hills to the west of Florence, and surrounded by verdant countryside, the Country Hotel Il Borgo complex is equidistant (about 10 miles) from Florence, Prato and Empoli.   
Apartments: The mini-apartments are made up of a lounge/dining room, split-level bedroom, bathroom,  corner kitchen (electric stove, fridge, freezer), and sleep from 2 to 6 people, depending on the size. All the flats are fitted with centralized heating and air-conditioning, Internet access, satellite TV and Pay-TV, all of which function on the "chip-card" system.
On the gable of the roof is a gilded terracotta copy, created by the Manifattura di Signa, of the Winged Victory of Samothrace, the original of which is in the Louvre in Paris. Each flat is named after a famous artist (Modigliani, Monet, Klimt, Van Gogh, Michelangelo, etc.) and is decorated with copies of their most famous paintings, reproduced by the Manifattura di Signa.
Four flats have been dedicated to local artists, Alvaro Cartei, Giovanni Vettori, Giovanni Maranghi and Giuseppe Medaglini, to remind us of the importance of art in this small corner of the globe. Both overnight (minimum 2 night stay) and weekly reservations are possible. Country Hotel and its Borgo are surrounded by a wonderful park, where you can relax walking among trees and fine plants, reaching a small lake, an ideal site for a picnic, or relax and wait for the sunset.
Facilities: Reception open 24 hours a day; Breakfast service; Private pool; Bike hire. Florence, Prato and Pistoia, the most important towns in the area, are easily reachable by yourself and we provide our guests with a program of various excursions to the most interesting sites. The main Villa overlooks the Borgo and the restaurant and park (see 'additional photographs' for an aerial view). As a convention and wedding venue, the elegance of the villa is eternal, and is run day to day by Luciana, Natascia and Rossella.
The restaurant "Tre Corone" (walking distance) offers a delightful and creative selection of traditional Tuscan dishes. Our wine list offers a large variety of regional wines, and we also offer 7 days Tuscan Cooking classes. Our chef Roberto will teach you everything from handmade pasta, bread making, to meats and delicious desserts. On a smaller scale, our wine tasting's allow you to experience a taste of our local wine from Carmignano, combined with a tasting of local cheeses and cold meats.   Alternatively, take a day long trip from Punta Ala to the beautiful island of Elba. We will offer transport and a picnic lunch on our Bčnčteau Ocean Clipper 361.