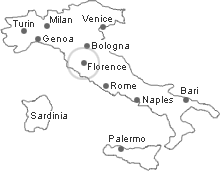 Apartment I Galli 2 occupies the second floor of a charming little 100 year old building in an authentic residential neighborhood of the city, surrounded by real shops and cafes where the locals hang out, yet no more than 20 minutes' walk from Ponte Vecchio. It is near San Marco Piazza, one of the liveliest squares in the city, and the Galleria della Accademia, home to the most famous of Michaelangelo's statues, the David.
The apartment is located in the same palazzo as another of our rental properties,
Apartment I Galli 1
. These two apartments may be rented separately or combined, to accommodate up to 8(+4) in 4 bedrooms and 4 bathrooms.
Just a few doors down the street is a laundromat, and if you do want to have a car while you're staying in Florence, this is an ideal location because a garage is nearby, street-side parking is allowed, and there are roads nearby that'll see you out of the city in no time.
A wonderful hallway welcomes you home. Here everything is new, from interior to fixtures, furnishings, bathroom and beds.
The double bedroom is a large room with plenty of space in the closet, and, by the bedroom a nicely remodeled bathroom with shower. The living room is also quite large with a pull out couch that offers room for your overnight guests. The living room is well lit and quiet. In fact the whole apartment is quiet. The kitchen has everything you might need for cooking, and the dining room forms part of the living room. Another bedroom features two single beds with great views on Italian roof tops. Another bathroom is available for the 2nd bedroom, with shower.
This is a splendid location for enjoying all that Florence offers. In addition, there is easy access to all of Tuscany and the rest of Italy at Florence's train station, which is within easy walking distance (15 minutes' walk).