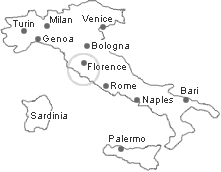 ITALIAN HOLIDAY APARTMENTS FOR RENT - VILLA DEGLI ALBERI, TUSCANY
The ancient complex of Villa degli Alberi is situated amidst 200 hectares of woods, fields, vineyards and olive-groves. It includes the traditional Tuscan refined country villa, typical Tuscan barns and, 100 metres away, the old Tuscan country schools; the buildings have been transformed into three apartments, one sleeping 10-12, one 10-14, and the barn sleeping 4 to 6 people.
The buildings have been renovated respecting all the original architectural characteristics, and have been fenced along their boundaries. The apartments are furnished in the style of the typical Tuscan country villa, and lend an air of bygone simplicity and relaxation. A large garden provides ample space for dining outside.
There is a beautiful swimming pool (10 x 20 metres), with a solar-panel powered shower, two wall barbecues, and a laundry (there is a washing machine for communal use - at a small charge). Private parking is provided.
The estate is about 4 kilometres from Certaldo, where guests can find all kinds of shops, 8 kilometres from Poggibonsi, 10 km from Barberino Val d'Elsa, 15 kilometres from San Gimignano, 30 kilometres from Siena, and 40 kilometres from Florence. Villas 1 and 2 can be linked upon request.
Villa  1
(sleeps 10-14) 235m²
The apartment is situated on the 1st floor and has two private entrances. It features terracotta floors and wood-rafted ceilings, and has 4 double bedrooms and 2 twin bed rooms connected by wooden stairs. There is a living room with stone fireplace and 1 double sofa-bed, a big kitchen, and 4 bathrooms with showers.
Villa  2
(sleeps 10-12) 200m²
The apartment is situated on the ground floor of the villa. It too has a private entrance, terracotta floors, wood-rafted and brick vaulted ceilings. There is a living room with 1 double sofa-bed, a big kitchen, 2 twin-bedded rooms and 3 double bedrooms with private entrances, and 3 bathrooms with showers.
The Barn
(sleeps 4 - 6) 120m²
The apartment is situated on the 1st floor of the barn, where the traditional arches have been preserved; terracotta floor, wood-rafted ceilings and forged-iron lamps, 2 double bedrooms and 1 double sofa-bed in the big living room/ kitchen, 1 bathroom with shower.