RENTING IN ITALY - TUSCAN COOKING LESSONS WITH SPECIALISED CHEFS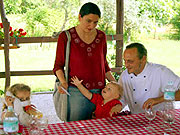 Hosting cooking classes, dinners and a personal chef service, Jacopo and Anna bring years of experience. Jacopo T has been a professional chef since 1990 when, after high school, he decided to follow his family cooking tradition (his grandparents had a trattoria) and attained a Degree in Cookery at the Istituto Professionale per il Turismo of Florence. He started working in some of the finest restaurants in Florence and Tuscany, such as Cammillo, Vescovino and Mammarosa. He spent a year working in Lausanne in the top restaurant, L'Age D'Or. Back in Florence he completed his university studies, getting his degree in Political Sciences.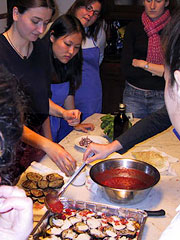 In the year 2000 he was asked by Salvatore Ferragamo to give cooking classes for his guests in his Estate "Il Borro". He found this a challenge and discovered a passion for teaching Italian cooking. He started running an Italian Cooking Course at Syracuse University in Florence and giving private cooking classes in an elegant apartment in the centre of the city. He now gives cooking classes in his country house, where he lives with Anna and their two children, Agnese and Riccardo. The daily teaching experience supports Jacopo's belief that good cooking can be an easy and joyful thing that everybody can do. His hands-on classes communicate, in a familiar and unpretentious atmosphere, the down-to-earth character of Italian cooking and the strong, vibrant and naturally genuine flavours of Tuscan food. Jacopo also cooks as a private chef for dinners and special events.
Anna B. got her Degree in Chemistry at the University of Florence. After some years spent in research work on Organic and Medical Chemistry, she then turned to teach Mathematics and Science in Secondary School. Passionate pastry maker since young, she entered deep into her love with cooking, following Jacopo and learning from him. Anna's scientific background and skills help her understand even better the secrets of the kitchen.
For more information and for detailed menus and prices don't hesitate to contact us.